RIDING TOURS / RATSASTUSRETKET
Ride the Arctic Trail / Ratsain retkelle 
EASY / HELPPO
This ride is relaxing and quiet, we take the trail to the woods to breathe in the clean air and admire the nature. There's no rush or traffic, just the hooves of the horses stepping on trail in a tranquil rhythm.
Ride the Wild Trail / Ratsain taipaleelle 
MODERATE / KESKITASO
On this ride we choose more challenging trails and horses might speed up to trot. We will wander off the known trail to explore new routes through the wilderness as we look for signs of wildlife. Some physical condition is required.
Ride the Hidden Trail / Ratsain seikkailulle
ADVANCED / KOKENEET
This ride will take us on hidden trails on a faster pace. We will gallop through the forest and ascent to hills, where the scenery to the wilderness will take our breath away. Previous riding experience and good riding skills are required.


Age limit: 12 years 
Parents with/on behalf of riders under 12 years (with previous riding experience) please contact info@polarispointhorses.com to inquire suitable tours!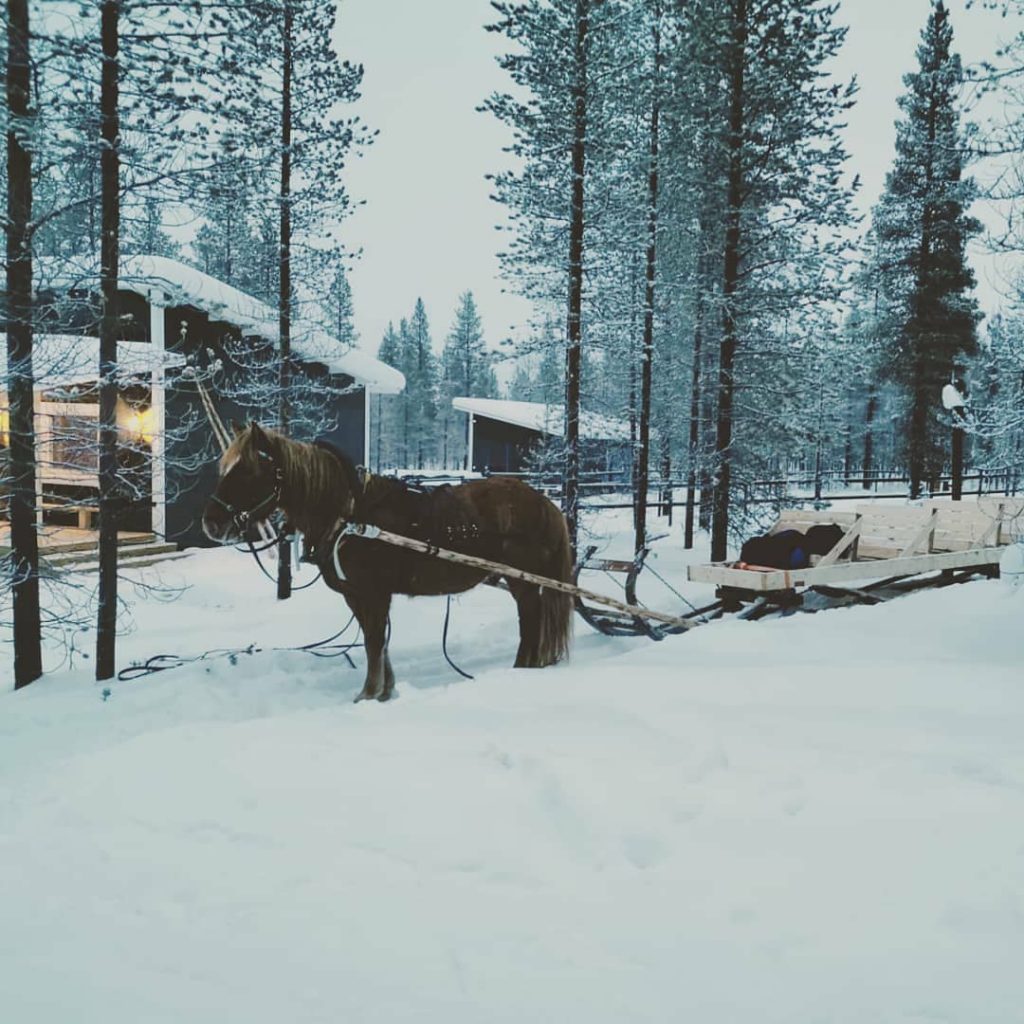 ON REQUEST / TILAUKSESTA (ALKAEN 12/2021)
ADVENTURE SLEIGH RIDE / SEIKKAILU HEVOSREELLÄ
Exciting sleigh ride through the winter scenery on a one horse open sleigh. Experience the quiet nature and enjoy the steady ride with friendly Finnish horses. On the way you might find some sign of wildlife and magical creatures of Lapland..
Great for families and private groups! 
Jännittävä ajomatka halki lumisen maiseman yhden hevosen vetämässä reessä. Koe hiljainen ja puhdas luonto, ja nautiskele rauhassa turvallisesta ja tasaisesta suomenhevosen kyydistä. Matkalla voit nähdä vilauksen villieläimistä ja Lapin maagisista olennoista..
Sopii hyvin perheille ja pienille ryhmille! 
Duration / kesto: 1h 
80€/adult/aikuinen 
30€/child (under 12)/alle 12v.
Private tour (max 6 participants) 420€ /group
4 DAYS IN THE WILDERNESS – SUMMER TOURS 2021 NOW AVAILABLE! 

DAY TOURS available on request 
OVERNIGHT (1 night/2 days) dates:
 * 28.-29.8 (Kaira Trail)
* 21.-22.9 (Kievari Trail)